Printing on eggshells has never been faster & more economical than with the RNJET EP-6H+!
Low maintenance, high speeds (up to 130,000 eggs per hour) using USDA approved, food grade ink.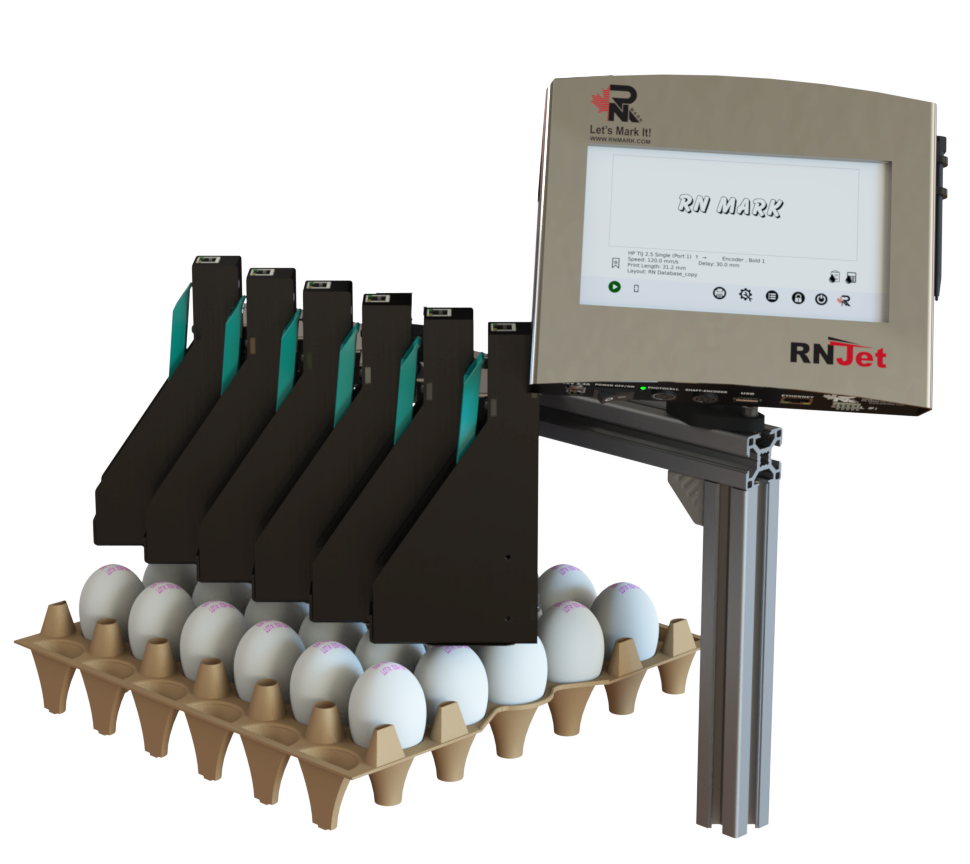 Up to 12.7mm (0.5" ) height, and up to 3 readable lines with logos.
Printing could reach speeds of 180m/min. High speed communication allows for up to 130,000 eggs per hour, or 30 eggs per SECOND!
Our Controller is equipped with database & unique coding capabilities, and is able to handle any task; including auto-dating, logos, serial numbers, barcodes, etc.
No more expensive yearly maintenance bills or costly downtime… our egg printer is very low maintenance, keeping your production running smoothly.
Our specially developed, food grade ink is available in Blue or Dark pink, perfect for any color of egg.
We are a proudly Canadian company; our machines are designed and fully manufactured by our skilled team of technicians in Ontario.
The best solution for printing on eggshells.
It's never been easier to mark your eggs with Grades, Dates, Logos, or serial numbers. The RNJET EP-6H+ allows you to forget about maintenance and focus on your production with no additional costs. Our unique compensator design is gentle on the shells, regardless of size or orientation differences, eliminating loss of product and keeping your costs down.
With our USDA approved, food-grade ink you can be confident in the print quality of your eggs as well as the safety of your clients.
RNJet Date Coders are well-known all over the world
Our professional team with more than 20 years' experience in the coding & marking business will be more than happy to support you in your project.