Table of Contents
Across the globe, governments are increasingly implementing food regulations and coding requirements to ensure complete traceability throughout the entire food supply chain, which can be particularly useful in the event of contaminated batches. Consumers also want to know where their food came from, who is providing it and when it was produced.
What information should be printed on Eggs?
Customers should have visible and reliable information about manufacturing and expiration dates on egg shells. In the absence of an expiration date on the package or eggs themselves, a consumer could purchase expired eggs and it may cause a stomach disease. Therefore, finding the right solution for printing on egg is so important for manufacturers.
Some of manufacturer wants to have their logo printed on the eggs, which is a great idea for branding. If the customer satisfied with
Does printing on egg shells pose a health risk?
There should be a special food-grade ink used for that. A special food government department, such as the USDA, should check the ink's composition and approve or disapprove it. For manufacturer it's important to check the USDA approval of the food-grade ink before moving purchasing the new egg shell inkjet or egg stamp machine.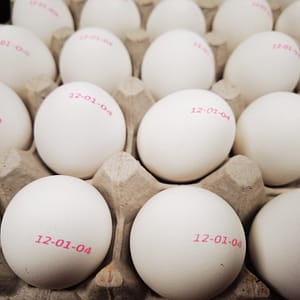 Is traceability information could be printed on Egg Shells?
Printing & marking legible and accurate information on products is an important requirement for any food manufacturer, as traceability becomes more common (and more often required) in the industry. When it comes to food safety, especially with eggs, clear codes for traceability and easy to read use-by date markings are critically important. When printing on egg shells, this task is particularly difficult due to the delicate, uneven nature of the shells. Inkjet printers are ideal for this requirement, as they spray food-safe ink from a small distance, without even touching the surface of the egg. This prevents some damage from unevenly sized or oriented eggs, but with rigid print heads, there still comes a loss of product due to shell breakage.
Manufacturers will see many benefits from coding their products with traceability markings such as GS1 Data Matrix or QR codes, such as:
Improved company reputation
Ease of regulation compliance
Better customer retention
Streamlined inventory management
Easier product callbacks or returns in the event of contamination
What is the easiest way to mark Eggs?
There are some egg marking machines. You could consider using inkjet printer or egg stamper. Industrial Inkjet printer could print on the fly without stopping the line while egg stamper could mark only when the products are not moving, which could slow down your production.
RNJet's EP-6H+ Egg Printer solves this problem with its specially designed compensators on each print head which gently glide over unevenly sized or oriented eggshells, reducing loss of product to 0. With our USDA approved, food-grade ink, both customer and producer can rest easy knowing their product is fresh, local and safe.
Watch it in action:
Questions? Our knowledgeable team will be happy to help.